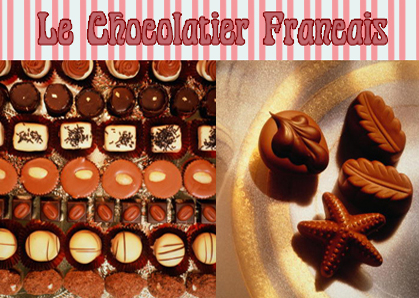 Wert

$199
Rabatt

72 %
Sie sparen

$144
Der Deal endet am:
2011-07-24
07:00
Highlights
Authentic custom confections
Bring home sweets made by yourself
1.5 hour of fun tutorial
Friendly ambient
Konditionen
Limit 1 coupon per person
Expires September 24, 2011
Appointment required
Description
Long ago when chocolate was the drink of royal families and rich nobles and its price was equal to the gemstones, the recipe of this brew was guarded as the biggest secret. Today's deal from Le Chocolatier Francais will reveal this secret for you for only $55 ($199). During the 1.5 hour chocolate-making hands on class you will be preparing the custom confections filled and shaped at your whim. Afterwards you may surprise your friends and family by treating them with these authentic goodies.
Chocolate is often compared to the fine wine for its full flavor and delicate structure. Like every type of wine is consumed on certain occasions, Le Chocolatier Francais suggests its own sorts of confections to celebrate every special moment.
The St. Valentine's Day best present will be a box of the raspberry butter cream with simple butter cream topping candies. Easter is better feasted with chocolate strawberries and praline cream bon bons. Any woman will be happy to get an artisan hand-made box filled with cappuccino and champagne truffles on the Mother's Day. Tiramisu filled, cheesecake and mint truffles should delight every family member on Christmas. While the wedding can be commemorated with light and summer-tasting pomegranate and raspberry bon bons.
Reviews
Three citysearchers and two yelpers give Le Chocolatier Francais an average of four stars, naming it as the best place to find fine chocolate in the area
"Can't say nothing else than I love this place, the aroma is breath-taking and all candies are so whimsically shaped and crafted, that Le Chocolatier Francais is the only place I can think of when I am in bad need for satisfying my chocomania" Marla, citysearch
8 facts about the chocolate

:

1. According to the social survey conducted in Britain, 9 out of 10 people like chocolate, while 1 out of 10 was telling lies.
2. A hectic to-do list will be easier if topped with "eat chocolate" item, that's the right way to know that at least one item will be completed by the end of the day.
3. Consuming the chocolate helps the chocolate consume you!
4. Chocolate doesn't make the world go around, but it sure does make the trip worthwhile!
5. A number of programmers eager to write code for chocolate is constantly growing
6. The best things in the world are chocolate
7. Chocolate is the best anti-depressant.
8. Some like it hot, some like it cold, but many like it chocolate.