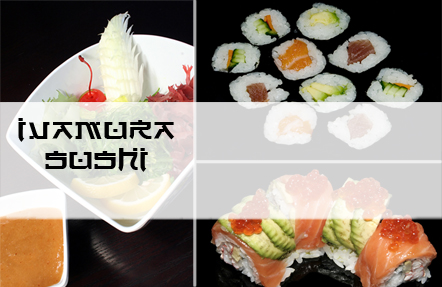 Wert

$45
Rabatt

67 %
Sie sparen

$30
Der Deal endet am:
2011-12-30
07:00
Highlights
Wide range of nigiri, rolls and tempura
Date-worthy atmosphere
State-of-the-art food
Konditionen
Expires on September 14, 2011
Limit 1 coupon per table
Not valid with other offers
Dine-in only
Description
Sushi is the best dating alternative, keeping you busy with the chopsticks and making you having fun with multi-colored whimsically decorated food. With today's cool deal you can get $45 worth nigiri, maki or tempura at Ivamura Sushi for only $15.
Not everyone knows the exact location of Japan or who is the president there. But hardly any of your friends or relatives never tasted or heard of sushi. Sushi is strongly associated with Japan, being considered around the world as its primary trait of culture . However, sushi appeared in Japan only in the mid 18th century. It came from the costal Eastern Asia and initially its actual shape and ingredients were pretty far from those encountered now.
Takeo Ivamura, the founder of Ivamura Sushi, firmly believes that food is an art. That's why unexpected combinations and authentic savors of Japanese food and drinks will knock your socks off. Salmon, tuna, shrimps, chicken, pork, seaweeds, octopus, quid, crab, mutton, flying fish, caviar… yet that's not the full list of edibles skillfully prepared and served at Ivamura Sushi.
Reviews:
"Frankly, best place in LA to meet friends or a date, very cozy and fascinating" Emily B., Yelp
"Fabulous experience, I expect visiting Ivamura Sushi once and again. Though it is getting hard to secure a table on weekends, but it is definitely worth waiting in the line" Jacob, Reuters
12 Interesting Facts about Japan:
1. Almost every Japanese can draw and sing very well for some reason.
2. The japanese consider their own language extremely complicated, so they will grant a lot of respect to you if you can say "Hello!" in Japanese.
3. The japanese are very scrupulous, they will follow every instruction to the letter.
4. Hot springs and public baths are very popular in Japan.
5. Family ties have almost no value in Japan. It's quite natural when brother and sister do not talk for ages and even do not have the phone numbers of each other without any conflict or quarrel.
6. Apartments and houses in Japan are miniature-sized and very cold.
7. The japanese consider other countries being very unsafe.
8. While in Japan, you will be expected to leave your shoes next to the entrance in some offices, hospitals, and restaurants.
9. The japanese are the biggest fashion fans, if something has been claimed as fashionable, it will be purchased by every second citizen.
10. The japanese will rarely say "Thank You" to a cashier or shop assistant.
11. The japanese often look down upon Chinese and Vietnamese.
12. When offering one's hand, a japanese will never say: "Will you marry me?" they will say "Will you be washing my clothes?" or "Will you be cooking soup for me?" instead.