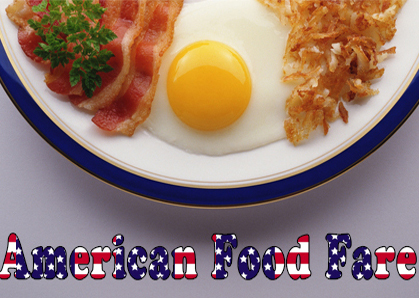 Wert

€50
Rabatt

76 %
Sie sparen

€38
Der Deal endet am:
2012-05-31
00:00
Highlights
Excellent burgers
Outdoor patio seating available in summer
Breakfast served all day long
Laid-back atmosphere
Konditionen
Limit 2 per person
Expires October 9, 2011
Limit 1 per table
Dine-in only
Description
Savory breakfast selections are offered all day long at American Food Fare feeding joint, today's deal will get you a breakfast or lunch for $12 at the time you pick. ($50 Value). Will it be a quick drop-in before work, after party munchies or ravaging hunger in the middle of hectic day, you'll find what you seek here. Happy hours are also good for this coupon, so just pick the time for your dine-in American fest.
The perfect-harmony balance of nourishing food and great service has been refined at the American Food Fare.
The breakfast menu at American Food Fare is quite a bountiful one, featuring omelets, waffles, pancakes, crepes and beyond. Get yourself ready for the day's or night's adventures with pure pan-American nourishing food such as the staffed-at-your-whim omelet ($9.45), dressed with black olives, anchovy, tomatoes, cucumbers and feta, the mouthwatering tower of Nutella or peanut butter waffles ($7.95), ham and maasdam sandwich ($6.75) and much more. Just few days are left to do a comfortable outside eating, grub the coupon and enjoy it.
Reviews
More than 50 Yelpers give American Food Fare an average of four stars, while most of the Citysearchers reside on the 3.5 stars rate.
"An absolute must for breakfast or lunch in the neighborhood. Everything tastes so fresh and delicious. And the mango-pear pancakes are worth of dying for! Not sure how I can recommend this place more higher. Just go there and have your awesome lunch, you will not regret" maryjones, Citysearch
World's breakfast traditions
The major goal for having the early bites are to get yourself going, so a cup of coffee in most countries is going hand in hand with the breakfast. The Turkish breakfast habits feature different sorts of bread covered with butter and honey, fried or boiled eggs, sheep cheese, black olives, cucumbers and tomatoes. The drinks include obligatory coffee, hot tea and ayran (mix up of the yoghurt and salted water). Breakfast in Israeli, as a rule, involves consumption of fresh fruits, veggies, herring and yoghurt. A typical breakfast in Africa implies the presence of millet or corn porridge, fresh fruits and kitoza grilled beef stripes accompanied with tea and coffee. Indian breakfast features eggs scrambled with veggies and spices, rice pancakes and noodles, smoked haddock and coffee. The Scandinavian breakfast is a combination of cold meats, cheeses, fruit juices, butter and jam. Japanese breakfast eaters consume rice with seaweed, raw egg and pickles.