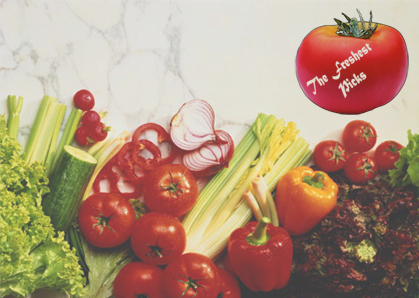 Valor

$52
Descuento

75%
Ahorra

$39
La oferta terminó en:
2010-12-12
07:00
Aspectos destacados
Free delivery right to your door
100% natural organic merchandise
Local, sustainable farms
Fresh produce delivery
Condiciones
Limit 1 coupon per person
New customers only
Expires October 29, 2011
Not actual with other offers
Description
Your digestive system is buried under the tons of grease, cholesterol and other junk food components every day, why not to give it some TLC in the form of fresh vitamin-full veggies. The cornucopia of freshest organic produce from The Freshest Picks will be at your front door at ridiculous $13 price ($52 Value).
The Freshest Picks tears the best organic merchandise out of the throat of local producers. You can customize your box by adding to it fresh-killed meat, dairy and eggs. The contents of the box are pretty seasonal, but if you have any allergies you can submit the list of them and get proper green equal substitution.
Reviews
The Freshest Picks have been getting the highest five-star reviews on both Yelp and Citysearch, gathering more than 500 fans on Facebook.
"Their veggie and fruit boxes are awesome and 100% organic. The delivery is so timely I can always be sure to get a box of fresh goodies by 9 a.m. every Thursday" Sandra, Yelp
"Their produce is the best one I know, no need to visit the grocery store, fresh food will be handed to you right at your place" Suzanne, Citysearch
The phases of digestive perfection
1. Consuming french fries, steaks, pizza and all the rest
2. Refusing from meat, cholesterol level shrinks
3. Refusing from bread, dairy, sweets
4. Giving up eating the seafood
5. Stop boiling, frying, grilling or cooking your meal in any other way and switch to raw food diet
6. Sun eating
7. Ascension!