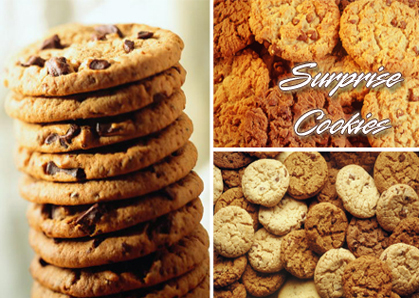 Valor

$15
Descuento

80%
Ahorra

$12
La oferta terminó en:
2011-06-09
07:00
Aspectos destacados
Piping hot cookies
No frozen dough
Relaxing ambient
Huge screen windows
Condiciones
Expires October 6, 2011
Eating in only
Not valid with other offers
Limit 1 coupon per person
Description
Cookies have always been the best truce reconciling gift. For only $3 with today's deal you may gulp more than a dozen of the most popular former American currency units with no consequential health problems ($15 Value) at Surprise Cookies.
Surprise Cookies is a family-owned and family-operated business, founded in 1955 by Jewish immigrants. Throughout more than 50 years of operation, Surprise Cookies has mastered all the most delicious known cookie recipes, moreover, they have elaborated the existing ones and invented their own to make the customers experience such authentic inimitable flavors. The bakery offers a vast variety of cakes, cupcakes, biscuits, breads, donuts, sweet rolls and muffins, but the cookies always were the number one trademark product. Just today $3 will get you about a dozen of cookies of the flavor your choose or, perhaps, all at once: chocolate chip, vanilla, peanut butter, macadamia nut, oatmeal raisin, spicy ginger, lemon sugar, cinnamon, cranberry, and banana to say the least.
Reviews
Surprise Cookies have been receiving the highest marks from yelpers and urbanspooners, the average will not go less than 4.5
"Surprice Cookies is the legend of Palo Alto or the gem, if you prefer. The cookies are awesome, I can't tell anything else. The ambient is absolutely, you start feeling good when you enter the place." Irma, Yelp
The treat of truce
What we currently regard as a cookie is usually a thin little-sized cake. The word "cookie" came from Dutch, where it sounded as koekje and signified a little sweet cake. First cookie-like sweet treats appeared in the 7th century in Persia, the modern Iran. To Europe cookies came together with the Moor invasion of Spain. For the first time cookie recipe was featured in Elizabethan England in a cookbook named "Goode Huswife's Jewel" in 1596.