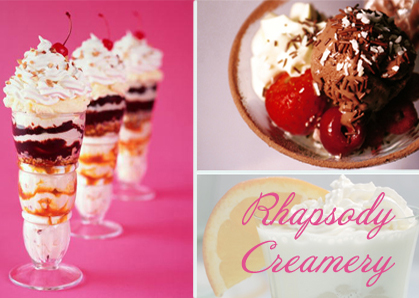 Valor

$10
Descuento

70%
Ahorra

$7
La oferta terminó en:
2012-05-07
00:00
Aspectos destacados
Plethora of flavors
Customizable toppings
Free Wi-Fi
Smoothies & sundaes
Condiciones
Must use in 1 visit
Limit 1 coupon per person
Not valid during happy hours
Expires September 28, 2011
Description
Rhapsody is a piece of music composed under spontaneous inspiration, a one-movement work with free-flowing structure. Grab your inspiration and feature your mood by composing an unexcelled ice-cream with the plethora of flavors offered by the Rhapsody Creamery. Today's deal will let you get $10 Worth of Gelato or Ice Cream for only $3.
Surprisingly the greatest unequaled and miraculous musical compositions were written using only seven notes. Do not even try to calculate how many savory rhapsodies you can compose by using dozens of flavors available at the Rhapsody Creamery.
The fillings and toppings come in delicious and unusual selections: crumbled cookies, chopped nuts, Irish cream, French Vanilla, chocolate, mint, cheesecake, coffee, mocha, praline, banana, peanut butter, cinnamon, sliced almonds and many more. You can pick two or three of them to compose your rhapsody.
Reviews
Yelpers and citysearchers give Rhapsody Creamery a 4.5-star average
*What can I say more? I love the rhapsody ice-cream…" Nina, Yelp
"I got hooked on the mocha with sliced almonds topping, so I'm there every other day" lostinnyc, Yelp
9 facts about ice-cream
1. One gallon of ice-cream is made out of twelve gallons of milk
2. The largest ice-cream pyramid weighing over thousand pounds was made in 2002. It incorporated over 3000 scoops.
3. The best selling ice-cream flavor is vanilla
4. The best selling ice-cream topping is chocolate syrup.
5. July was declared as the National ice-cream month in 1984 by Ronald Reagan.
6. Ice-cream cone was introduced in 1904 , while ice-cream on sticks and ice-cream bars were invented in 1920s.
7. Citizens of Portland, Oregon consume the biggest amount of ice-cream in the US.
8. The global turnover of the ice-cream industry is estimated at about $11 billion.
9. Ice-cream was invented in China more than 2 thousand years ago.