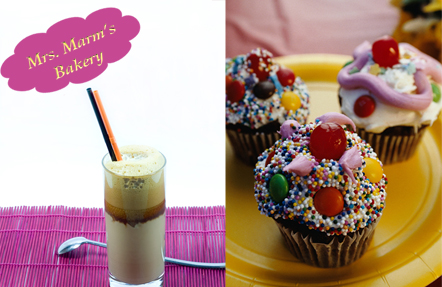 Valor

$30
Descuento

77%
Ahorra

$23
La oferta terminó en:
2010-09-16
07:00
Aspectos destacados
Piping hot tasty bakery
Cozy home atmosphere
All-natural fresh-milk shakes
No frozen dough
Condiciones
Limit 1 per table
Not valid during happy hours
Valid for 1 year
No cash back
Description
Bizarre and exquisite, plain and simple, authentic and familiar versatile flavors of Mrs. Marms's cookies, pies, cakes, and dessert bars will not leave you indifferent. With today's deal you can taste any three funnily decorated cupcakes, complementing them with healthy fresh milk made shake.
Since the age of 15 Linda Marm's favorite pastime has been baking cookies and pies. Over the years she refined her recipe and sharpened the skills knowing how to reach such special unexcelled savor. Mrs. Marm's bakery assortment of bakery goods is up to 100 items, though the special focus is put on seasonal offers. Every month has its own specialization. This doesn't mean that already familiar favorite edibles will be unavailable, this only means introduction of special always new baked goods, which would definitely make you elated.
January – mocha. Cold windy afternoon is always better with whimsical cupcakes and a cup of mocha. They will warm you and make you feel at home.
February – blueberry. A tiresome, but fruitful workday could be finished with red velvet cupcake and a glass of mulled wine. Hot acerbic aroma of wine and gillyflower cloves, combined with smooth odor of piping hot bakery will scatter your worries away.
March – peach. Inventive sweet peach cakes with irish cream icing and covered with chopped cashew nuts are extremely delicious and authentic. Better taste with a cup of pure green tea.
April – plum. Amazing plum pies and pastries with brown sugar and almond chips are the best choice for late breakfast. In springtime some boulangeries and coffee shops use raisins instead of plums. This is not the case of Mrs. Marm's Bakery, only fresh plums are used for baked edibles within the whole month.
May – raspberry. Summer is coming. The best way to waken up and get ready for it is to taste fancy raspberry-staffed cupcakes accompanying them with a glass of vanilla shake.
June – lemon. A sunlit morning is reminding of a lemon rind, warming and appeasing. Why not to anchor this feeling with a nice hot lemon cake and a cup of grey ceylon tea?
July – orange. Orange marmalade and jelly, orange smoothies and shakes are the means to celebrate summer in its blossom. You can also have 50% off on the orange flans during happy hours.
August – chocolate. Chocolate is often compared with good wine: delicately structured and full flavored, however this applies to good chocolate only. Ready-made chocolate is never used at Mrs. Marm's Bakery, that's why chocolate edibles there are as fine as a fine wine.
September – apple. Though almost every country in the world can boast with its own recipe of apfelstrudel or alike, there's no food more American than the apple pie. Being 100% American apple pie is worth a dozen of any exotic baked goods.
October – vanilla. Sweet and exquisite vanilla is a bottom-and-top for assortment of any bakery. At Mrs. Marm's vanilla cakes and biscuits are served with a cup of latte or cappuccino.
November – cranberry. Your neighbors and friends will be offered luxurious desserts made of cranberry, usually combined with pear and pomegranate.
December – cinnamon. Christmas mysteries and miracle awaiting are widely associated in our minds with the aroma of cinnamon.
Reviews:
In last year's Nesquik Cupcake Challenge, Mrs. Marm's raspberry cupcake won fourth place for most original decoration,
"Absolutely stunning, hot and fresh bakery, I always stop by Mrs. Marm's to fest on hand-made state-of-the-art cookies" J. West
"I have a thing on chocolate. Can't live a day without having a cup of hot chocolate or a couple of chocolate candies. That's why August is my favourite month" Nora