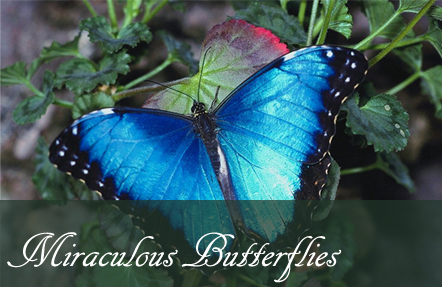 Valor

$25
Descuento

72%
Ahorra

$18
La oferta terminó en:
2010-09-28
03:00
Aspectos destacados
Butterflies move freely around the showroom
First time in San Francisco
More than 300 species of vivid colorful insects
Four unique seasonal themes
Condiciones
Expires October 28, 2011
General admission from 11 a.m. to 8 p.m.
Description
The average life expectancy of an adult butterfly is from one to two weeks, hurry to commemorate these spectacular and adorable insects with today's cool deal for only $7 for two adult tickets ($25 Value).
San Francisco Conservatory of Music is going to host for the first time the Miraculous Butterflies show. The luxurious showroom decorated with exotic flora to mimic the natural habitat of the hundreds of species of flutterbugs. The insects are being shipped from all over the world as chrysalis.
The butterflies move freely around the showroom, landing on the flowers, plants and dreamy visitors. However, this landing can be encouraged if wearing vibrant multi-colored clothes and sweet floral perfume. For some reason white color attracts the butterflies too. So taking a white sheet of paper to the show will be a good idea, furthermore it will be the best background for taking a photo when one of them lands.
The beautiful flutterbugs have been regarded as the symbols of love and happiness in every culture of the world. In Greece they are believed to be the souls of those who passed away. Cards with two flying butterflies are given on weddings in China. The Filipinos regard a black lingering butterfly as a symbol of coming death. In Russia and Japan butterflies symbols are used to represent young maidens and marital happiness. The most unusual belief about the butterflies possess the Germans, thinking that they are witches intending to steal the cream.
Reviews
Miraculous Butterflies show has been featured in San Francisco Examiner, two yelpers are excited about the coming show and give it the highest five stars.
"So many species at one small place, this show is gonna be something different from a regular butterfly house. They are so vivid and wonderful, I certainly visit" amie65, Yelp
Celebrities wearing a butterfly tattoo
Drew Barrymore has a butterfly tattoo under her belly button.
Maria Carey has one on her lower back
Kelis has a butterfly on her stomach.
Dolly Parton is country star with a flutterbug on her chest.
Julia Roberts demonstrates butterfly tattoo on the lower back
Britney Spears has one on her left foot.
Holly Marie Combs has a flutterbug tattoo on the inside of her right wrist.
Paris Hilton once shown small butterfly on the back