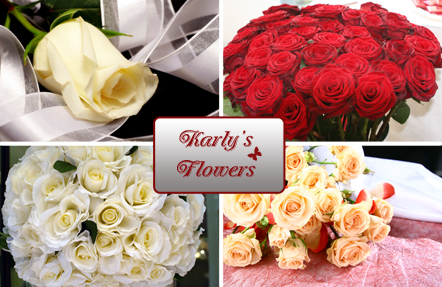 Valor

$35
Descuento

66%
Ahorra

$23
La oferta terminó en:
2010-10-09
07:00
Aspectos destacados
Amazing, handpicked roses
Universally beautiful
Ideal gift
Create custom message
Condiciones
Expires November 3, 2011
Only valid for dozen of roses
Delivery not included
Limit 1 per person
Description
There is no other thing more expressive than flowers, as a poem or musical composition they will enable you to convey to the others plethora of emotions and feelings. But the strength of expression feelings with flowers lies in silence, leaving room for the fantasy and deep hidden expectations. Today's deal will get your emotions blatantly unleashed with the dozen of roses for $12 from Karly's Flowers ($35 Value)
For many centuries, the oils extracted from rose flowers were used as the basis for perfumes. These oils are widely employed as condiments in Far and Middle Eastern cuisine. The infusion of rose petals also known as rose syrup is used for preparing marshmallows.The hips, being highly rich with vitamin C, are made into rose hip seed oil, jellies, marmalades and jams. Apart from their exclusive use, roses are the perfect gift in every season and on any occasion. Actually that's the first gift we can think of disregarding of the age, social status, gender and the level of familiarity with the receiver. Roses, being a symbol of beauty, will commemorate every day of life given that special sense of importance or delight. A single red rose, often referred to as the "lover's flower" is a sign of passion, while single pink or white rose convey purer feelings as a synonym of affection.
Reviews
"Great flower store! I always find the bouquet I wanted and perfectly decorated. The friendly staff of Karly's Flowers will always help me bring the people I need closer to me" Jamie, Yelp
The Name of Rose
Rose paves its history since the first found pink rose cave inscriptions dating back to the Stone Age. Perhaps its the second known to humankind flower after the water lilly. It has been a source of inspiration for many painters, poets, writers, sculptors and singers. Rose flowers were valued and worshipped, finding their ways to emblems, flags, decorative elements and writings. Different colors of roses have been used to communicate diverse types of messages. White roses are the tokens of virtues, virginity, pure love and innocence. White rose, a "symbol of moonlight" served as the emblem of the House of York in the War of Roses. The snow-white buds have traditionally been the wedding flowers. Pink roses have always companied the poetic romance, depicting the grace, elegance and sweetness. Yellow rose received the most ambiguous treatment in different culture. At one place it is considered to be a token of joy, at the other – a sign of separation, jealousy and infidelity, elsewhere – a symbol of new beginnings. Black roses, though described and depicted in many pieces of art, never existed. The dark burgundy or midnight purple buds have been perceived as the black ones.