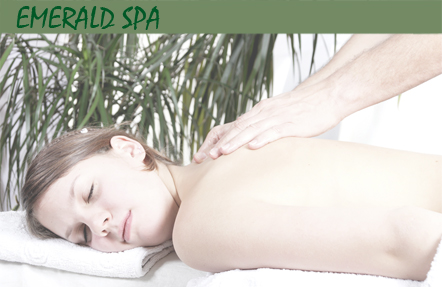 Valor

$100
Descuento

65%
Ahorra

$65
La oferta terminó en:
2010-09-25
07:00
Aspectos destacados
Soothing relaxation
Skillful therapists
Aveda products used
Incorporated use of sauna and shower facilities
Condiciones
Invalid with other offers
Limit 1 per person
Appointment required
Expires September 24, 2011
Description
Together with herbal potions and other specific means to chase away the diseases, the medicine of almost every culture of the world stores its unique technique of massage. Moreover, the massage is one of the oldest therapy practices. Today's deal will let you experience the relaxing and therapeutic effects of the oldest medical practice for only $35 ($100 value) from Emerald SPA
The nature of massage lies in the psychological reactions of humans to respond to the place where it hurts. The word massage comes from Arabic "mass" meaning to touch, responding to the pain by touching is aimed to alleviate it. Though the massage itself appeared long before this word. The first known writing on the massage therapy dates back to the ancient China – 3000 BC, many years later in the 18th century it was translated into French.
Massage was used to enhance the blood circulation, relax the tense muscles, reduce the stress, remove the anxiety and lift the immunity. Emerald SPA combines the deep tissue techniques and the Swedish massage together with the sport massage practices and smooth relaxation gentle touch. The Aveda moisturizing and revitalizing potions are the best complements to tune your body into its perfect shape
Reviews
Emerald SPA has been in business for more than 35 years, their excellent services helped them obtain a great number of local clients. Ten yelpers give highest five-star rate to the Emerald SPA
"This is the first place I go to after a stressful day. Gentle relaxing massage, pleasant music and nice friendly ambient, that's all I need to feel good back again" Ronda, Yelp
"Emerald SPA is soooo comfortable and their aromatherapy is so soothing, I use their services for over 5 years and will be doing so in future. Plus the rates are far low for this type of quality provided" SweetJenna, Yelp
Emerald worth services
Emeralds have been serving as the signs of luxury since the times of ancient Egypt. First mines, where emeralds were excavated belonged to Cleopatra. Today the finest emeralds come from Colombia, Russia, Brazil and Zimbabwe:
Emerald is the second most expensive gemstone after the diamond.
To be considered an emerald the gem must have an intense green color, otherwise it will be called "green beryl"
Many nations believed emeralds to have magical properties such as granting clairvoyance, invoking love and speed the healing
Emerald is the birthstone of May, perhaps because its color is similar to the grass
Couples celebrating their 55th anniversary are often presented with emerald. This signifies that their marriage is as solid as emeralds.