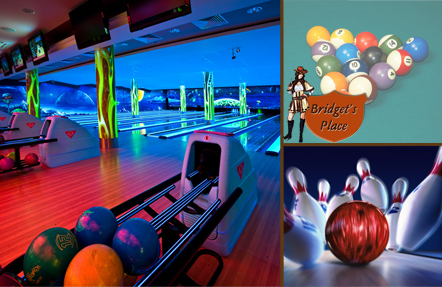 Valor

$50
Descuento

70%
Ahorra

$35
La oferta terminó en:
2014-05-14
00:00
Aspectos destacados
6 professional tables
Ample bowling center
Open daily till 3 a. m.
Laid-back ambience
Condiciones
Must be 21 after 6 p. m.
Not valid for food, drinks and other offers
Limit 1 coupon per 6 people
No reservations
Description
Bowling and billiards for quite a long time have been considered utterly aristocratic games. Though, the first one was invented in England, by Archduke Leopold Wilhelm, and the last one emerged in France, during the reign of Louis XIV, the two used to be noble outdoor games. The today's deal will help you experience both these formerly aristocratic pastimes for only $15 at Bridget's Place ($50 Value).
The Bridget's Place is located next to the Stanford University campus offering a range of entertainment amenities, good food and drinks at incredibly low prices. The country stylized laid-back atmosphere, spacious dining area, 6 professional pool and snooker tables, ample bowling alleys, laser game area and many more will make you come there again and again.
Bridget is an anglicized form of the Irish name Brighid meaning "an exalted one". The Irish mythology defines this name as the name of the goddess of fire, poetry and wisdom, the daughter of the god Dagda. In the 5th century this name was borne by Saint Brigid, who founded the monastery at Kildare and is a patron saint of Ireland. Bridget, the mascot of Bridget's Place, is not saint, she is closer to the first definition: young, pretty and fiery-tempered. She helps create an exalted and impassioned atmosphere of amusement, making her visitors to believe that life is too short to have enough fun
Reviews:
TripAdvisor has featured Bridget's Place in top ten places list in Palo Alto, while three users have marked it with four and half owl's eyes.
"The democratic pricing of Bridget's Place makes it affordable for such broke folk as students. Hoping to have a snack or drink, or just play billiards, you'll never be bored there" Amanda, TripAdvisor
"We often come to Bridget's Place for lunch, the food is nice there and you can always have a free milk shake during happy hours" mercyj, TripAdvisor