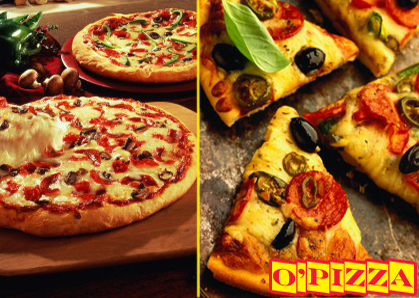 Value

$20.00
Discount

70%
You Save

$14.00
The deal ended at:
2012-08-01
00:00
Highlights
Fresh piping hot pizza
Variety of toppings
Laid-back atmosphere
Homemade sauce
Fine print
1 coupon only valid for 1 table
Expires September 28, 2011
Not valid for happy hours
Dine-in only
Description
Perish the thought of carrying your pizza out or ordering it, the today's deal from O'Pizza will help you save this authentic savory odor of the piping hot melted cheese pizza. For only $6 you can get a piping hot pizza with the topping you choose and a nice toothsome mug of beer ($20 Value).
Pizza, an indispensable item of any fast-food industry, as well as pasta is usually regarded as a typically Italian cuisine. It majorly came from the ancient Rome, where the sheets of flour dough were covered with honey and bay leaves. In Ancient Greece the bread was covered with herbs and cheese. The modern commonly encountered pizza evolved from Italian tomato pie.
Reviews
The fine food served at O'Pizza was given 4.5 stars by 3 yelpers:
"Amazingly delicious and extremely fresh, I can not recommend this pizza more" sandy, Yelp
"Best place to get a piping hot pizza in Palo Alto, seriously. Everything tastes so selectively prepared and fresh as if you have not tasted pizza for ages. I've heard mixed reviews about this place, though since I visited O'Pizza for the first time I have my own one: this is the greatest pizza place in the world! That's the Holy Grail for pizza!" sjdm1ss, Yelp
The Most Italian Type of Pizza
The obligatory components for pizza today are dough, tomato and cheese, while the topping may differ greatly from seafood to fruits. The most popular pizza is Margherita, introduced in 1889 when Naples was visited by Queen Margherita of Savoy. The pizza served to the queen had tomato, mozarell and basil arranged in the way to resemble the three-clored flag of Italy. That's why pizza consequently named Margherita is one of the Italian cultural artifacts.