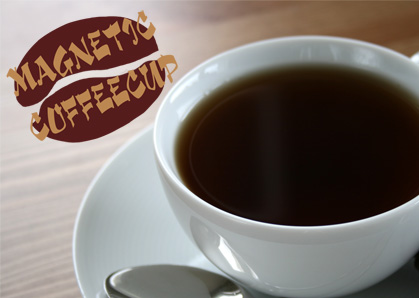 Value

$35.00
Discount

77%
You Save

$27.00
The deal ended at:
2010-11-08
07:00
Highlights
Plethora of coffee flavors
Wide selection of drinks
Laid-back ambient
Free Wi-Fi
Fine print
Limit 1 coupon per person
Not actual with other offers
Expires October 31, 2011
Must be redeemed in one visit
Description
Ever happened to notice what kind of nonsense you can write, draw, type, build, cook, craft or else while dozing off? How many wonderful things would never come to existence if nothing could help the author shake off the grasp of sleep and catch the elusive tale of a genius thought? Todays' deal will get you the wake up pill, for as less as $8 you can get up to 20 cups of 100% arabica fresh coffee.
Once it was said that attention to details is the greatest power for writer and investigator. Attention to details is the strong point at Magnetic Coffecup, The vintage design of Magnetic Coffeecup's interior is targeted at the maximum coziness, warming the wandering visitors with savory drinks and free Wi-Fi. Apparently this is made to attract the best writers and investigators in there. The laid-back atmosphere will make you lose the track of time and in case you have munchies, they can easily be eliminated with the vast variety of sandwiches, cookies, rolls, wraps and paninis available. So that's the great place for you to complete your play or analyze the evidence collected, keeping you up, full and cozy for a long time
Reviews
More than 20 Yelpers give the highest 5 start to Magnetic Coffecup, and 78% of 62 urbanspooners like this place
"The staff is helpful, but not molesting. Here's where I can enjoy the cup of fine coffee and social networking" Jannet, Urbanspoon
Curious facts about the coffee
The modern worldwide recognized coffee has first been consumed by the ancient Ethiopians. The story tells about Kaldi, the Ethiopian shepherd, who spotted the unusually energetic behavior of the entrusted goat. The first evidence of coffee drinking dates back to 1671, the Yemen monks used to absorb the knowledge of the coffee tree through drinking the brew made of its beans. Coffee won widespread appreciation in Arabia as it allowed to partially lift the ban of alcohol letting enjoy the adrenaline without breaking Islamic rules.
The planet is vested with the so called Bean Belt, coffee is only grown in the tropic regions. Coffee is the second most exported merchandise after the oil. Coffee tree can reach up to 30 feet, but it actually never reaches this height, otherwise the beans would be hard to pick. The coffee beans are the seeds inside of the scarlet red berries. They are extracted and roasted until they pop. Majorly two most popular types of coffee are cultivated: robusta and arabica, the first one is characterized with higher percentage of caffeine. Espresso has nothing to do with tree species or roasting, it practically is the preparation way.