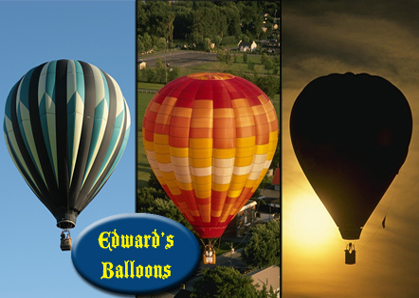 Value

$350.00
Discount

57%
You Save

$201.00
The deal ended at:
2011-09-23
16:01
Highlights
Magnificent view
Adventurous experience
Romantic ambient
Bliss of the open sky
Fine print
Expires on September 22, 2011
Limit 2 people per flight
Can buy multiple as gifts
Appointment required
Description
Adventurous and extremely romantic sunrise flight on hot air balloon will wash away the daily routine from your relationship and make both of you feel like on the first date. The semi-private atmosphere, outstanding bird-eye's vistas of the valley and exquisite champagne included into the "flight for two package" will make this experience unforgettable. Do not miss the chance to get a $350 value one-hour hot air balloon flight for only $149 from Edward's Balloons
Edward's Balloons is a family owned entrepreneurship, Edward and Emily Whistler have an enchanting love story and idyllic marriage. When Edward met Emily, he was working as a pilot of hot air balloon. He invited her to take a ride on the hot air balloon over the Washington DC, which completely swept Emily off her feet and made her agree to become his wife. Since that time Edward and Emily have been doing their best to give such wonderful moments to other couples helping refresh their relationship or make another step towards each other.
The professional photographer can help you commemorate this fabulous moment and keep a collection of astonishing photos of yourself, sunrise and marvelous early-fall sceneries. If you wish to attach this flight to a special occasion in your life, Edward's Balloons has the birthday, anniversary, and other congratulation banners to be hanged on the basket. At the end of the flight you will have a delicious celebrating dinner of three courses and will be presented with a whimsical flight certificate.
Ballooning funny joke!
A man, riding hot air balloon, realizes he's got lost. So he reduces height in order to ask some direction from a man he luckily noticed on the ground:
 "Pardon me sir, can you tell me where I am?'
' "Yes", says the man from below. "You're in a hot air balloon hanging about 20 feet above this field." "I guess you must work in the Information Technology sphere" says the balloonist.
 "That's correct", replies the man. "How did you figure this out?'
' "Well", says the balloonist, "everything you have told me is technically accurate, but it's no use to anyone." 
The man on the ground gets irritated and responds, 'You must work as a management consultant." '
'That's true", replies the balloonist, 'but how did you know?/" '
'Well', says the man, "you don't know where you are, or where you're going, but you expect me to be able to help. You're in the same position you were before we met, but now it's my fault."
Reviews:
Three Citysearchers and two Google Mappers give 5 stars to Edward's Balloons.
"Absolutely incredible views of the valley, highly professional and experienced staff made me and my husband feel in private, we enjoyed this ride completely forgetting we weren't alone. This romantic trip heated the chemistry of our relationship" Margie, Google Maps
"That was some sort of an odyssey, I am not a big fan of flights and never enjoyed planes. But this ride was granting a sense of adventure, when you feel the wind, see the valley below, clouds and birds. This flight is hard to be compared with anything else" Janet, Citysearch